DUI-related accidents in California resulted in several fatalities in early August. Although police didn't report any deaths due to DUIs in Los Angeles proper around that time, motorists in other parts of the state weren't as lucky.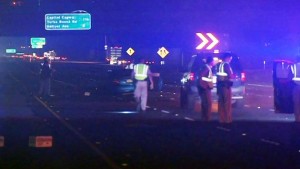 According to Long Beach Patch, 28-year-old Alvin B. Shaw had a blood alcohol content level of 0.15 when he headed west in the eastbound lanes of the Gerald Desmond Bridge in Long Beach around 7 a.m. on August 1. He slammed his 2012 Mercedes-Benz into two other vehicles, a 2014 Ford Fusion and a 2010 Nissan pickup. Both Shaw and the Fusion driver ended up in the hospital with critical injuries. But 30-year-old Miguel Gonzalez, the Nissan driver, wasn't as lucky. Emergency workers pronounced him dead at the scene.
Shaw allegedly was driving on a suspended license, which he had lost because of a previous DUI conviction in 2014. He faces charges of murder and DUI causing injury within 10 years of another DUI offense.
On August 10th, 44-year old Carmen Venegas of Fremont, driving an Acura, hit a Toyota Scion that was stopped perpendicular to traffic on Highway 101. According to witnesses, the Scion had hit the center divider of the road before ending up on the second lane from the right facing the shoulder. That's where the car was when Venegas broadsided it. After screening Venegas at the scene, police booked her on suspicion of DUI felony driving, driving without a license and felony manslaughter. She had two 14-year old boys plus another adult passenger in the car when the accident occurred.
Garrett James Gelrud, 34, caused a head-on collision near Pala on August 5th, killing the driver of the other car. His Chevrolet Suburban crossed the double yellow lines on Old Highway 395 and rammed into a Nissan Versa driven by 62-year-old Juan Corza Gonzalez. Gelrud ran from the scene but police caught up with him. He faces charges of second-degree murder, gross vehicular manslaughter while intoxicated and DUI causing injury.
Designing and executing an effective defense against DUI charges (even simple ones) is not intuitive. Fortunately, you can trust the seasoned, highly successful Michael Kraut. Call a DUI lawyer in Los Angeles with nearly two decades of experience.
Have you been stopped for DUI in Los Angeles, contact attorney Michael Kraut at (323) 464-6453 or online. Our team is located at 6255 Sunset Boulevard, Suite 1520, Los Angeles, California 90028.