Arrested for a Los Angeles DUI and Worried about Jail Time? [This DUI Driver Had an Eerie Premonition]
Drivers charged with a DUI in Los Angeles rarely dress like they expect to go to jail. But in the early morning hours after Halloween, police in South Carolina picked up one motorist who apparently had a premonition of where he'd be spending the night.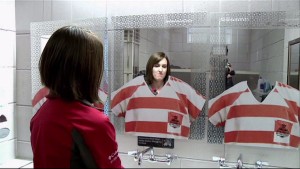 Fox Carolina reported that an officer with the Springdale Police Department tried to pull Jamal Alexander over on suspicion of DUI. Instead of stopping, Alexander allegedly took off, hitting a patrol car and a porch of a house before ditching his car while it was still moving. When police caught up with Alexander, he threw a loaded gun under a patrol car.
Alexander had probably been out celebrating the Halloween holiday, since he wore a prisoner costume—all ready for his trip to jail. Police charged him with DUI, driving under suspension, failure to stop for blue lights, open container in a vehicle and unlawful carrying of a firearm.
While Alexander wasn't purposefully dressing for an evening in custody, a bar in Salt Lake City, Utah really wants its customers to think about what jail would be like. A story on the Channel WAGT 26 website said that SKY SLC has given its bathroom an unusual makeover for the Halloween holiday. They made it look just like a jail cell.
The "jail" bathroom features a door with bars and a prisoner's bunk against the wall. When patrons glance up when washing their hands, they'll see their heads rising out of an orange-and-white –striped prison suit that's been painted on the mirror. A sign on the wall asks "Ever wonder what a DUI looks like? Drive sober or get pulled over."
Bar manager Jacob Torres said they wanted to remind customers of the consequences of getting behind the wheel after they'd been drinking. The bar partnered with the state safety office and the Utah Highway Patrol on the makeover.
What should you do if you or someone you love faces a serious DUI count? Will you go to jail? Will you lose your license? Call Los Angeles DUI defense lawyer Michael Kraut immediately to understand your options and craft a strategic response.
Did police stop you for driving under the influence in Los Angeles? Contact DUI defense attorney Michael Kraut for assistance at (323) 464-6453 or online. We're located at 6255 Sunset Boulevard, Suite 1520, Los Angeles, California 90028.