Alleged DUI Driver's Excuse Is All Wet, Say Local Authorities
Drivers charged with a Los Angeles DUI often end up crashing into other vehicles (parked or moving). They may occasionally hit a storefront, a light post, a mailbox, or a home. But there aren't many reports of people driving under the influence going off the road and driving into the Los Angeles River or some other body of water.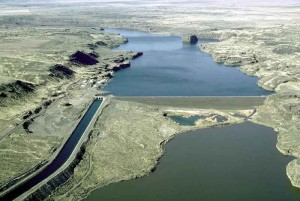 But police in Kennewick, Washington, can now say they've had such a driver.
On Wednesday, July 29th, around 3 p.m., emergency workers in that city received a 911 call saying that a car was in the river at the East Boat Launch at Columbia. NBC KNDU said that the caller reported that he and his mother had been on a nearby bridge when they saw the car slipping into the water. The witnesses ran to the scene, where the woman walked into the water and yanked open a rear door to attempt a rescue. But the car was empty.
That's because the driver, identified only as a man in his late 20s, had apparently made it out of the car and run up a hill—dripping wet—until he reached a gas station and called for help. The Columbia Basin Drive Rescue, the Kennewick Police Department and fire crews all responded to the summons.
When police caught up with the driver, he insisted that he had been trying to take a photo of the river and—probably because he wasn't paying close attention—he hit the car's accelerator instead of the brake. That plunged him—and the rental car he was driving–into the water.
While police may have believed that story, they obviously thought there were other factors at play. They charged the driver with DUI.
Do you need help defending against a drug or DUI charge? Michael Kraut of Los Angeles's Kraut Law Group is a trustworthy, highly qualified former prosecutor. Call a Los Angeles DUI attorney today to strategize for your defense seriously.
Call attorney Michael Kraut at (323) 464-6453 for help if you've been stopped for DUI in Los Angeles. Or Contact our team online. We're located at 6255 Sunset Boulevard, Suite 1520, Los Angeles, California 90028.