Round Up of Wild (and Instructive) DUI Stories–Fall 2018 Edition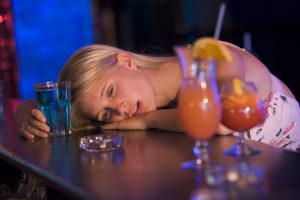 "Truth is stranger than fiction, but it is because fiction is obliged to stick to possibilities; truth isn't." –Mark Twain
One of the most common tactics utilizes to try and dissuade people from DUI is to describe what could happen if someone gets behind the wheel while intoxicated. In reality, we can learn just as much (if not more) from things that actually did happen during DUI incidents. Quite often the events are completely unpredictable and frequently disastrous.
We believe these true-life stories hold lessons for us all, so let's take a look at a recent compendium of rather crazy stories of DUI that have happened in recent memory to see what we can learn from them.
Family Sues Bar Where ESPN Star's Wife Drank Prior to Her Fatal DUI Accident
On May 9, 2017, Katherine Berman, wife of ESPN personality Chris Berman, was speeding down the road in Woodbury, CT when she struck another car at full speed, killing herself and the other driver. Last month, as the New York Post reports, the family of the other driver filed a lawsuit seeking damages of $50,000 against the bar where Katherine Berman had been drinking, alleging that the bar continued to serve her drinks even though she was visibly intoxicated.
The Hartford Courant obtained a police report revealing the troubling details of the fatal crash. According to the accident reconstruction team, Berman had been driving at a speed of approximately 82 miles per hour when she rear-ended the vehicle of Edward Bertulis, 87, who was on his way home after visiting the gravesite of his late wife. He was ejected from the vehicle and eventually died of his injuries. Berman's BAC was three times the legal limit. The evidence suggests she drifted out of her lane during a curve and made no attempt to slow the vehicle before plowing into the other car.
Bertulis' family alleges that the Market Place Kitchen & Bar in Woodbury continued to serve drinks to Berman although she was allegedly already drunk and likely to drive. Under a Connecticut law known as the Dram Shop Act, an establishment serving alcohol to a visibly intoxicated person may be held liable for any resulting injuries or death.
Takeaway: Many states, including California, have "dram shop laws" requiring establishments to stop serving patrons alcohol when they are visibly drunk. This fact doesn't guarantee they will cut you off if you have had too much to drink. If you indulge, you can't rely on the bar to "cut you off."
Woman Sentenced to 30 Years for DUI-Related Death of Her Children
In March 2018, a Florida woman was sentenced to 30 years in prison for DUI manslaughter and related charges in connection with the death of her two sons, the Florida Times-Union reports. Back on October 22, 2016, Tonya Capallia-Eason, 35 was driving an SUV with eight children inside, including her sons Nicolai, 9, and Nehemiah, 8. The vehicle veered off the road, hit a utility pole and overturned. Nicolai and Nehemiah were both killed; the other children were injured. Testing showed Capallia-Eason's BAC at twice the legal limit.
Capallia-Eason was arrested about six weeks after the accident and remained in jail on $575,000 bond. As part of a plea agreement capping her sentence to 30 years, she pleaded guilty on Feb. 1, 2018 to two counts of DUI manslaughter and three counts of DUI serious bodily injury.
Takeaways: When DUI causes the death of others (especially children), the penalties can be greatly increased. Considering that 30 years was part of a plea deal, this woman could have faced even stiffer penalties—not to mention dealing with the loss of her children.
Man Dies After Car Is Struck by Two Separate Intoxicated Drivers
In August 2018, according to the New York Post, a man driving near Albany, NY was killed when his vehicle was struck by not one, but two intoxicated drivers traversing opposite sides of the road.
According to state troopers, the victim's car was first struck by August Rice, 23, who was driving eastbound on Interstate-90. The collision sent the victim's car across the median into the westbound lane, where it was struck again by a vehicle driven by Rex Tucker-Moss, 41. (At the time of the article, the victim's name was being withheld pending notification of his family.)
Both drivers face charges of DWI and second-degree manslaughter. Tucker-Moss faces two additional charges of aggravated DWI and two charges of endangering the welfare of a child because his two children were in the vehicle at the time of the crash.
Takeways: If you drive intoxicated with children in the car, the DUI charges may be enhanced even if the children aren't injured. Aside from this fact, the incident itself underscores that if two intoxicated drivers can be involved in the same accident, we still have much work to do on the side of prevention.
Child Killed While Seeking Help for Her Father after DUI Crash
A DUI injury accident turned even more tragic when the young daughter of a drunk driver lost her life while trying to get help for her injured father. According to the Washington Post, DeSandra Thomas, 7, was riding the car with her father about 3:30 am along I-94 in Romulus, Michigan. Her father struck an abandoned vehicle along the highway, and the process his own vehicle careened out of control, going off the highway and through a fence. Thinking her father might be seriously injured or dead, Thomas left the car, scaled the fence and started walking along the freeway. She texted 911 dispatchers that her father was in trouble but they couldn't pinpoint her location.
As state troopers looked for the accident site, another 911 call came in from a woman who believed she had struck a pedestrian crossing the interstate. The victim was Thomas, who died instantly. When police found the father, they described him as appearing "very intoxicated." The father had not been identified at the time of the article but was in custody pending an investigation.
Takeaway: When you place a child in danger while driving DUI, the danger may last well beyond when the vehicle stops moving.
These cautionary stories remind us that the repercussions of DUI may be far-reaching and very tragic. In perspective, if you were arrested for DUI and no one was hurt, you may be more fortunate than you realize. If you need legal representation for a recent DUI arrest, call our offices today.