No Los Angeles Lewd Conduct Trial for Actor Fred Willard
According to the Los Angeles Times, actor Fred Willard (whose credits include Anchorman, Best in Show, and This is Spinal Tap) will not go to trial for his Los Angeles lewd conduct charges.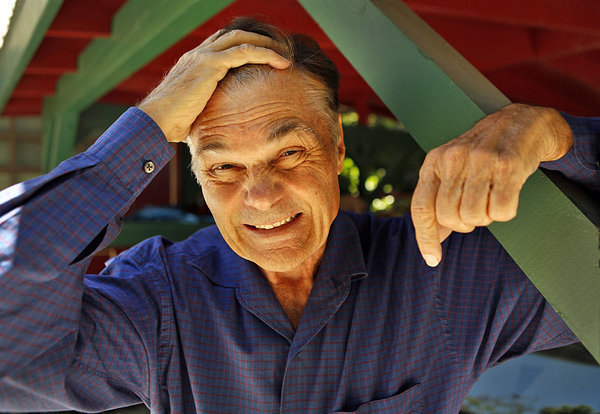 If you recall from our reporting from last July, the 72-year-old Willard got arrested at the Tiki Theater on Santa Monica Boulevard, after police officers allegedly observed him "engaging in the lewd act." Willard's arrest reminded many in the media of the career-destroying lewd conduct arrest of Paul Reubens in a Florida movie theater over a decade earlier.
The LAPD unit that busted Willard and others aimed to crack down on sex crimes in and around Hollywood. The comedic actor recently completed a diversionary program that will keep him out of jail and finish this chapter in his life. He appeared on Late Night with Jimmy Fallon after the arrest. He told Fallon that the arrest was "very embarrassing … it's embarrassing as hell, but let me say this, nothing happened. I did nothing wrong." Willard said that he didn't realize the Tiki Theater was an adult theater. He told Fallon "I see this one, it had such a Polynesian exotic look to it. I said maybe there's hula dancers in here. Maybe there's Mai Tais. I went in and I realized I was the only one awake and sober and conscious."
Willard's travails after his Los Angeles sex crime charges are extremely common. If you were arrested for minor Southern California criminal charges, you can probably relate to the embarrassment and frustration that he expressed on the Late Night now.
Even if you do not ultimately get tagged as a sex offender (a label which can last for life, like Hester Prynne's Scarlet Letter A), you can still suffer blows to your professional reputation as well as a loss of self-esteem and loss of empathy from close friends and family members.
It doesn't matter whether you're innocent of charges or whether you did do something wrong – this emotional response is universal among Los Angeles sex crime defendants.
Fortunately, you can make progress towards understanding what you're up against and putting together an appropriate legal defense. The team here at the Kraut Criminal & DUI Lawyers represents sex crime defendants in Los Angeles, and we can help you come to terms with your charges and make better decisions going forward. Get in touch with us today for a free consultation.