DUI Driver Carries Unusual Hood Ornament
LAPD police officers undoubtedly have their own stories about the unusual cases of DUI in Los Angeles that they've handled over the years. But officers in any jurisdiction would have to go a long way to top this recent DUI arrest in Roselle, Illinois.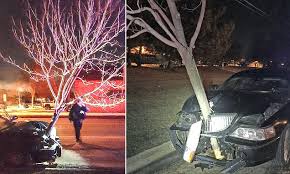 On January 23 around 11 p.m., motorists called the police department to report a car that was traveling along Roselle Road with an unusual hood ornament. The responding officer soon saw that the caller hadn't been exaggerating–there actually was a 2004 Lincoln moving down the highway with a 15-foot tall tree embedded in its front grill. (If you watch the video of the incident, you get a rather disconcerting view of the car moving down the road with the tree instead of passing by it.)

When the police officer pulled the car over, 54-year-old Maryann Christy, who was behind the wheel, said she couldn't remember where she had hit the tree. But she must have realized, at least for a moment, that she had hit something, because the encounter between car and tree deployed the vehicle's air bags. Not surprisingly, Christy failed the field sobriety tests, so the officer arrested her for DUI. She'll go to court in April.
The Roselle Police Department posted the video on March 4th, saying that it was an excellent example of why people should not drink and drive. But California drivers have other incentives to stay sober. Under California Vehicle Code 23152(a), motorists convicted of DUI for the first time could face up to six months in jail and a $1,000 fine.  They'd also have to enroll in a DUI driving school. Plus, under state law AB91, anyone picked up for DUI in Los Angeles, Alameda, Tulare or Sacramento Counties has to install an ignition interlock device on their vehicles for at least five months.
Please consider calling Michael Kraut of the Kraut Law Group to schedule a free consultation with a qualified Los Angeles DUI defense attorney. Mr. Kraut is a Harvard Law School educated ex-prosecutor with nearly 20 years of experience and an excellent track record for getting justice for DUI defendants.