Drug DUI for Amanda Bynes Creates Major Problems for Beleaguered Actress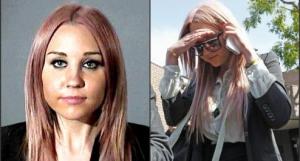 Of all the celebrity Los Angeles DUI cases that we've covered on this blog over many years, the peculiar case of Amanda Bynes has stood out, because the actress' encounters with the law have had less to do with willful rule breaking and more to do with mental illness.
The ex-child star, who earned fame in movies like Hairspray, found herself in handcuffs again on Monday, after police arrested her for driving under the influence of drugs. According to news outlets, the actress had stopped taking her antipsychotic medication and "started smoking pot again and drinking again." Previously, she had been admitted to a psychiatric hospital, after she threw a bong out of an apartment building in New York City and later lit a fire in the driveway of a complete stranger. She had enrolled in the Fashion Institute of Design and Merchandising in Southern California after completing a court-ordered parentally supervised conservatorship. An anonymous source claimed to RadarOnline that the 28-year-old actress "is absolutely out of control."
Per TMZ.com, Bynes had been driving high on the drug Adderall when police stopped her in the San Fernando Valley. They administered toxicology tests, and police said it will take 60 days to determine what, if anything, she had been using. Leland Tang, an officer for the California Highway Patrol, said "we would have released [information about what drugs she had in her possession] if we knew it was a stimulant…we won't know for sure until the toxicology comes back."
Getting arrested for drug DUI can be complex, but you may be able to challenge the arrest on multiple grounds. An experienced, strategic and compassionate Los Angeles DUI defense lawyer, such as ex-prosecutor Michael Kraut of the Kraut Law Group, can help you understand your options and develop and execute a consistent defense.
Did police stop you for driving under the influence in Los Angeles? Contact DUI defense attorney Michael Kraut for assistance at (323) 464-6453 or online. We're located at 6255 Sunset Boulevard, Suite 1520, Los Angeles, California 90028.